The holiday season has arrived, and what better way to kick start your merry shopping than by diving headfirst into the Sunny Shower Black Friday Extravaganza? It's that season when shopping fans enthusiastically and eagerly await discounts and promotions, and Sunny Shower has something truly spectacular in store for you.

Entrance Ticket: A Warm Welcome Awaits
Whether you're a new visitor or a returning individual from the Sunny Shower family, there's a warm greeting looking for you at the entry of the Black Friday Extravaganza.
Choice 1: If you're a newcomer, congrats! You're in for a treat. As a newcomer, you'll get an exceptional coupon for your first order. Enter the code "NEW10" during your buy to enjoy an exclusive discount. What's more, if you haven't registered as a member of Sunny Shower yet, try to join with your email to get a 15% off coupon. Keep an eye on your inbox for this fantastic offer!
Choice 2: For our loyal Sunny Shower members, we have something uniquely great to celebrate your return. Check your email because there's an exclusive gift waiting just for you.
Special Black Friday Gifts
The Black Friday Extravaganza is about making your shopping experience memorable and budget-friendly. Sunny Shower has arranged a brilliant exhibit of exceptional gifts to enhance your holiday season.
Hot-selling Item Coupons:
As a token of appreciation for our customers, we've organized exclusive discount coupons for some of our hottest products in 2023. After selecting your desired product, goto the coupon page and check if there are any individual discounts available. If so, simply note down the  corresponding discount code and apply it during checkout to unlock fantastic savings.

Carousel Draw: Spin and Win!
The most exciting part of this year's Black Friday event is the Carousel Draw. We're introducing a thrilling wheel of fortune where you can participate and win exciting prizes. Here'show it works:
Fill in your email address on the carousel and click the draw button to participate in the wheel draw.
The carousel offers a variety of exciting discount coupons, each with the potential to add substantial savings to your purchases.
Tip: Every user can use the same email address to participate in the lottery once a day. The discount coupon you win will be sent directly to your registered email address. Be sure to keep an eye on your inbox for the winning coupon.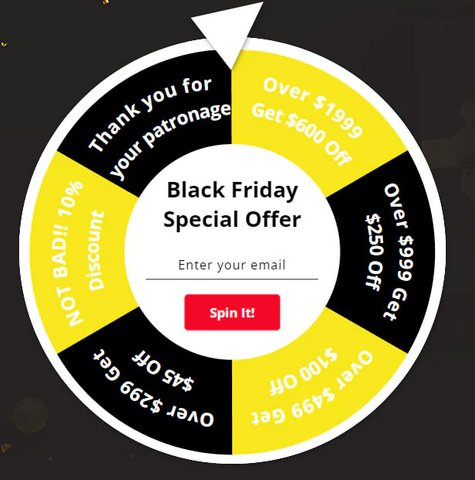 Tip: Please note that the coupons received from the above activities cannot be combined with the admission coupons, ensuring fairness and transparency for all participants.
Access the Black Friday Extravaganza
Ready to explore the Sunny Shower Black Friday Extravaganza and experience the unbeatable deals and surprises it has in store for you? Here are the relevant links to get you started:
Event Page: Visit the official event page [here] to stay updated on the latest offers and promotions.
Coupon Page: For exclusive coupons and discounts, head over to the [coupon page] and start saving!
Don't miss out on this opportunity to kick off your holiday shopping with Sunny Shower's Black  Friday Extravaganza. With entrance tickets, special gifts, and the thrilling Carousel Draw, there's something for everyone to enjoy. Start your festive season on the right foot with incredible deals  and savings. Happy shopping!