A bathroom is no longer merely a functional space but a sanctuary for relaxation and indulgence. As we seek to create a haven within our homes, shower room installations, have become a focal point in elevating the bathroom experience. From contemporary glass enclosures to spacious walk-in showers, these versatile installations offer a blend of style, functionality, and comfort that transforms your daily routine into a luxurious retreat.
In this comprehensive guide, we will explore the various types of shower room installations, their applicable scenes, and the multitude of advantages they bring to create an exceptional bathing experience right in the comfort of your home.

Types of Shower Room Installations
When it comes to elevating the appeal and functionality of your bathroom, sliding shower enclosures stand out as an excellent choice. These sleek and space-saving solutions offer a seamless blend of elegance and convenience, transforming you're bathing area into a luxurious retreat. At Sunny Shower, we take pride in offering a diverse range of sliding shower enclosures that cater to your unique needs and style preferences.
Corner Entry Enclosures, also known as corner showers or corner shower enclosures, are a type of shower design specifically intended to maximize space utilization in bathrooms. These enclosures are designed to fit into the corner of a bathroom, making them an excellent choice for smaller or compact bathroom layouts.
For those seeking to upgrade their bathroom with a space-efficient and visually appealing shower solution, Sunny Shower offers a diverse range of Corner Entry Enclosures.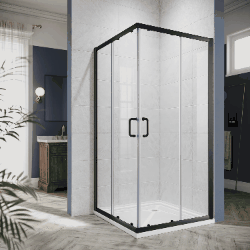 Quadrant Shower Enclosures, are uniquely designed shower enclosures that fit neatly into the corner of a bathroom, featuring a curved frontage. These space-efficient enclosures provide a luxurious and contemporary look to any bathroom. The quadrant shape allows for easy installation in smaller bathrooms, optimizing the available space. Crafted with high-quality materials, such as tempered glass and sturdy frames, these enclosures offer both durability and elegance.
Explore our diverse collection of Quadrant Shower Enclosures at Sunny Shower to elevate your bathroom with style and functionality.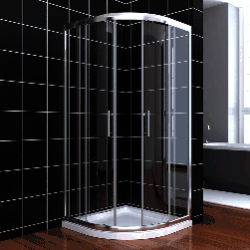 Pivot Enclosures offer a classic and versatile showering solution for your bathroom. These enclosures are designed with a pivot hinge mechanism, allowing the door to swing open and close with ease. This feature makes them an ideal choice for bathrooms with ample space, as the door can be installed to swing either inward or outward.
Pivot Enclosures are crafted with high-quality materials, including tempered glass and sturdy frames, ensuring durability and longevity. With their timeless design and functional convenience, Pivot Enclosures add a touch of elegance to any bathroom decor.
With a seamless blend of functionality and timeless charm, our collection of Pivot Enclosures at Sunny Shower caters to your specific needs and preferences. Elevate your bathing experience and transform your bathroom into a luxurious sanctuary with our premium Pivot Enclosures.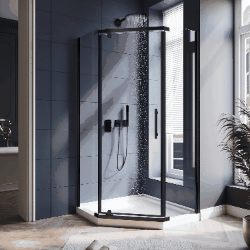 Black Shower Enclosures, are stylish and contemporary shower enclosures that feature black finishes, adding a touch of sophistication to your bathroom. These enclosures are designed to complement various bathroom themes and enhance the overall aesthetic appeal. Crafted with high-quality materials like tempered glass and sturdy frames, Black Shower Enclosures offer both durability and elegance.
Explore our collection of Black Shower Enclosures at to elevate your bathroom's aesthetic and create a chic and sophisticated bathing space. Embrace the timeless elegance and contemporary charm of Black Shower Enclosures to transform your daily shower routine into a truly luxurious experience.

Advantages of Shower Room Installations
1.Enhanced Aesthetics:
Shower room installations instantly elevate the overall aesthetics of your bathroom. Whether it's the modern elegance of glass enclosures or the open and spacious feel of walk-in showers, these installations add a touch of sophistication and contemporary charm to any bathroom space.
2.Increased Functionality:
Each type of shower room installation brings its unique functionality. Glass enclosures allow for easy maintenance and cleaning, while walk-in showers provide easy accessibility and freedom of movement. Shower cabins come with integrated features that cater to various showering preferences, from massaging jets to steam options.
3.Versatility in Design:
Shower room installations come in a variety of designs and styles, allowing you to find the perfect match for your bathroom's overall theme. Whether you prefer a sleek and contemporary look or a more traditional and classic feel, there are shower room options to suit every taste and interior decor.
4.Spa-like Experience:
Creating a spa-like experience at home is achievable with the right shower room installation. The open and spacious design, along with carefully selected fixtures, allows you to relax and unwind in a tranquil ambiance provide a luxurious and indulgent showering experience that rivals the finest spas.
5.Space Optimization:
Shower room installations are designed to optimize space, making them a perfect fit for bathrooms of all sizes. The streamlined designs of glass enclosures and the open layout of walk- in showers contribute to a visually spacious feel, even in smaller bathrooms.
6.Accessibility and Inclusivity:
Walk-in showers are particularly advantageous for individuals with mobility challenges or elderly family members. The barrier-free design allows for easy access and ensures that everyone can enjoy a comfortable and safe showering experience.
7.Quick and Easy Installation:
Shower cabins, in particular, offer a quick and straightforward installation process. These pre- fabricated enclosures eliminate the need for extensive construction work, saving time and minimizing disruption during installation.
Conclusion
In conclusion, elevating your bathroom with the right shower room installation can truly transform your daily routine into a luxurious and rejuvenating experience. From the sleek elegance of glass enclosures to the liberating freedom of walk-in showers, each type offers unique advantages to suit your needs and preferences.
At Sunny Shower USA Inc, we take pride in providing a wide range of high-quality shower room installations that combine style, functionality, and comfort. Visit our website today to discover the perfect shower room solution for your bathroom oasis. Your ultimate showering experience awaits!